A Protective Talisman
The traditional dreamcatcher is rich with symbolism. In this facilitated workshop, participants explore its origins and meaning while creating a dreamcatcher of their own.
Together, we wrap a 6" hoop with white-tail deer leather, weave the artificial sinew, then attach the feathers and beads for a beautiful result. Feathers and leather are sourced locally.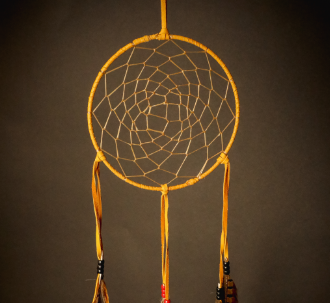 What We Cover
In all of our workshops, we discuss teachings and topics like cultural appropriation versus appreciation, the National Day for Truth and Reconciliation, the medicine wheel, and more. Participants are invited to ask questions in a safe and welcoming space.
A Dreamworthy Gift
Don't have time for a workshop? We'll make your dreamcatchers for you, a great gift for coworkers, clients, event speakers, and more. Better yet, we can add a logo or message for a stylized touch. Contact us to learn more.
Learn More